In 1997, the Washington Post introduced the public to NASA's innovative tool to manage its mountain of paperwork. The article, entitled NASA Sets Sights on a "Paperless" Planet, featured the developer of electronic handbooks (EHB), Barry Jacobs, who works at the National Space Science Data Center at Goddard Space Flight Center. In an interview with the Post Jacobs explained that EHBs enable management of paperless and programming-less documentary processes through the Internet. Three years later the initial reasons for the development of EHBs - moving from a paper to a paperless process to facilitate cost reductions and management efficiencies - are still relevant.
These Internet-based tools support the documentation and management of complex distributed processes, providing user handbooks that have forms and instructions for particular roles of a process. They also facilitate system development: requirements capture, system design, system implementation, software distribution, end-user learning, system maintenance, and adaptability to similar programs.
Practical application
EHBs have been and are at present being applied NASA-wide in the following contexts: NASA's Small Business Innovation Research (SBIR) Program, NASA Earth Sciences Technology Office Grant Programs, NASA-Wide Policies and Procedures, and NASA Education Division Computer Aided Tracking System. In most cases there have been record-setting time and cost savings.
For example, the application of EHBs to the SBIR Program has facilitated the process of proposal submissions, which number approximately 3,000 proposals annually. These submissions are often evaluated by two or more reviewers, often at different field centers. Managing these thousands of documents across 10 centers nationwide was a difficult task. With the use of EHBs, the data is accessible in one place.

NASA's Small Business Innovative Research program and its acquisition methodology have been streamline through the use of Electronic Handbooks.
The NASA EHBs have been spun-off to other governmental agencies, such as:
Department of Justice's Bulletproof Vests Partnership (BVP) Program
Department of Justice's Local Law Enforcement Block Grants Program
Department of Interior's Property Management Disposal Program
Department of Treasury's Community Development Financial Institutions Program,
Department of Health and Human Services Administration for Children and Families Programs
EHBs are currently being developed for data centers and e-science
The Department of Justice, with 80,000 potentially eligible jurisdictions, needed to provide an effective system for a new program (BVP) that had to be up and running quickly. Now, with EHBs, the Department is able to manage the BV program quickly and efficiently.
"Making this program available over the Internet will enable us to reach more communities and help protect more law enforcement officers than ever before," said Janet Reno, Attorney General of the US, when the EHB program was initialized for the BVP Program, following the Grant Act of 1998.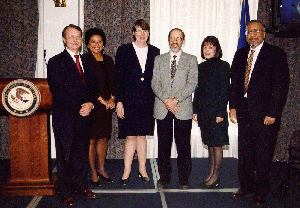 Presentation of the Bulletproof Vests System to the Attorney General. Left to right: RIchard Ward, Deputy Director-Bureau of Justice Assistance, DOJ; Nancy Gist, Director-Bureau of Justice Assistance, DOJ; Janet Reno, Attorney General, DOJ; Barry E. Jacobs, Research Computer Scientist, Goddard Space Flight Center, NASA; Lluanna McCann, Operations Chief, State and Local Assistance Division-Bureau of Justice Assistance, DOJ; Shyam Salona, Vice President, REI Systems.
According to Jacobs, in both the SBIR and the BVP, costs were reduced, the quality of the process was enhanced, and program administration became easier with the use of EHBs. Better and faster communication between NASA SBIR award winners and potential NASA customers helps the overall quality and the marketing of funded research. Better and faster communication between the Department of Justice and the law enforcement agencies facilitates the distribution of bulletproof vests and thus promotes betther and safer law enforcement.
Overview of components and architecture
EHBs are comprised of five components:
binders that define the product
processes that define who produces the binder parts
user EHBs that define how the parts of the binders are created
home pages that provide public interface with prospective applicants
files architecture that defines the file structure of all EHB pieces
EHBs are composed of four parts:
participation
system
security
files
The three dimensions of participation are: TOP-to-Bottom, meaning EHBs involve users across all levels of process management; Coast-to-Coast, meaning EHBs involve users located across physically separated sites; and Cradle-to-Grave, meaning that EHBs involve users across all connected subprocesses. The system is the Internet, used by both end users and EHBs. Security, a critical element, is implemented through the Internet with a secure password and role mechanism. Files, a tree of all of the text files that comprise an EHB, is used as a programming-free environment.

The time and cost to develop an EHB is a function of several factors: the complexity of the process, the availablity of the details of the process, and the existence or absence of a current similar EHB. The "mother" of all EHBs is the EHB-to-build-EHBs, which consists of a outline and an example which the developer uses to define the parts of the new EHB - binders, processes, user EHBs, home page, and files architecture. After creating these in a outline format, HTML examples are built. In the final stage, implementation, the examples are programmed into databases and presented to end-user focus groups for review.

Jacobs recommends the following tips, learned during the development and implementation of EHBs for NASA and the Department of Justice:
quickly develop the big picture
utilize example User EHBs for requirement capture
employ user EHBs focus groups
Keep user EHBs simple
make steps and substeps self-explanatory
learn form your Help Desk
Advantages of EHBs
EHBs have saved Federal agencies time and money while enhancing the administration of the programs to which they have been applied. Compared to paper-based processes, EHBs reduce program design costs, requirements capture costs, eliminate a great deal of programming, reduce software distribution costs, and because they are self-documenting, reduce end-user learning costs. Professionals are able to work in a faster and more open environment.
EHB research and development earned the Federation of Govenment Information Processing Council Intergovernmental Open systems Solutions Gold Award in 1999. Dr. Jacobs also won the NASA Medal for Exceptional Achievement.
Learn more about EHB's by accessing the web site or downloading the EHB.pdf. ATTENTION! By accessing the EHB or the PDF link you will be leaving the newsletter. This site does not provide return links. You may press the BACK button until you return to this issue.